Roger Meiners and Andrew Morriss Editors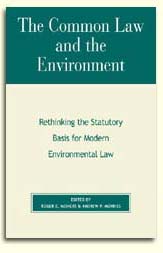 Since 1970, when the Clean Air Act was passed and the Environmental Protection Agency was created, the primary means for addressing environmental problems in the U.S. has been through comprehensive federal statutes and detailed regulations. Evaluating almost three decades of experience with the Clean Air Act, Superfund, the Clean Water Act, the Endangered Species Act, and other major federal environmental statutes, the contributors to this volume question the effectiveness and impact of the legal regime that created these regulations.
While most studies of environmental policy paint a picture of improvement through government initiatives, these essays argue the contrary. Pointing to Cleveland's burning river, the death of Lake Erie, smog in Los Angeles, and Love Canal, the contributors demonstrate that command-and-control regulation of the environment has not delivered the great improvements in environmental quality as promised. The Common Law and the Environment offers principles for a new approach to protecting the environment and looks to evidence of the successes of alternative legal systems to address significant problems.
Rowman & Littlefield Publishers, Inc.
4720 Boston Way
Lanham, MD 20706
800-462-6420