By Donald R. Leal, Michael De Alessi, Pamela Baker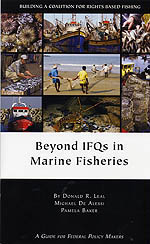 The evidence is out—fishermen not only catch fish, they can help protect them as well. Individual fishing quotas (IFQs), harvest cooperatives, and other limited access privilege programs have put fishermen in a fisheries management role and allowed them to reap what they sow. Now, new institutional "ingredients" are emerging to help further define roles for fishermen in management and research.
The Property and Environment Research Center, Environmental Defense, and the Reason Public Policy Institute have held four Capitol Hill briefings to educate policy makers on the benefits of IFQs. The first briefing and subsequent booklet, Overcoming Hurdles to IFQs in U.S. Fisheries, addressed concerns over the availability of processor quotas, restrictions of transferability of quotas, and time horizons on IFQs. The second briefing and booklet, The Ecological Role of IFQs in U.S. Fisheries, demonstrated how IFQs improve the health of fish and their habitat. And the third briefing and booklet, Governing the Fishery with IFQs, explored ways for fisheries governance to become more sensible and the fishing more sustainable.
Although IFQs are doing their job, there is still much work to be done. Policy makers and practitioners would do well by learning from those on the ground and in the water who are moving Beyond IFQs in Marine Fisheries; the topic of this booklet and theme of the fourth briefing on April 12, 2007. This briefing featured four fisheries experts: Michael Arbuckle, Pete Halmay, Paul Parker, and Mario Ramade Villanueva. This essay stems from their comments.
The Alex C. Walker Educational and Charitable Foundation has generously provided support for this project. Published by PERC, the Property and Environment Research Center, this essay is edited by Laura E. Huggins and designed by Mandy-Scott Bachelier.