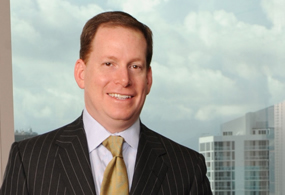 FRED E. KARLINSKY
Although Fred spends most of the year in Florida, he and his family enjoy spending time in the sleepy ghost town of Virginia City, Montana. An avid fly and ice fisherman, as well as a winter recreationalist, PERC Board Meetings offer Fred another great opportunity to return to Big Sky Country and further his passion for liberty and the environment.
Background: Graduate of University of Miami and Florida State University College of Law. Held positions with the Florida House of Representatives, Florida Department of Community Affairs, and as a law clerk before joining his firm, Colodny, Fass, Talenfeld, Karlinsky, Abate & Webb, in 1993. Leadership roles include service as former Chief Legal Officer and Assistant Executive Director of the Florida Property and Casualty Joint Underwriting Association; Florida Counsel to the Property Casualty Insurers Association of America, and General Counsel and Chief Lobbyist for the Florida Property and Casualty Association. Currently a fellow of the American Bar Foundation, an honor limited to one-third of one percent of attorneys in America. Appointed in 2008 as an adjunct professor of law by the Florida State University College of Law, where he teaches, "Insurance Law & Economics: Theory & Applications." Was admitted to the Roll of Solicitors of the Senior Courts of England and Wales in 2011.
Family: Wife Autumn; two children, Allie and Spencer
Legislative work: Fred helps shape all types of insurance-related legislative initiatives including property and casualty, automobile, health, workers' compensation and medical malpractice insurance. Heavily involved in a substantial revision to Florida's automobile insurance laws, he also was pivotal in redrafting Florida's property residual market statute, as well as rewriting the state's workers' compensation, medical malpractice and homeowners insurance laws.
Community involvement: Fred is a guardian ad litem and volunteers with Florida's Children First, which serves the legal needs of foster children. He has served as regional finance chairman and Jewish outreach coalition chairman for the Republican Party of Florida. He also is a board member of the Republican Jewish Coalition.
In his role as a board member, Fred provides productive insight to how PERC can continually build on more than thirty years of success in solving environmental problems with market solutions.