Originally appeared in the Daily Herald on August 29, 2014.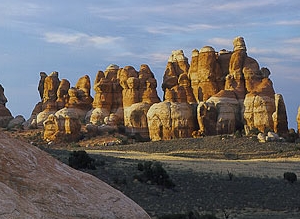 Clamor to designate the area known as "Greater Canyonlands" in Southern Utah as a National Monument has recently received considerable attention. Earlier this month, 14 U.S. senators — none of whom are from Utah — petitioned President Obama to use executive power under the Antiquities Act to create a Greater Canyonlands National Monument here in our state.
At the turn of the 20th century, Congress passed the Antiquities Act — giving President Teddy Roosevelt the authority to restrict the use of any federally owned public land by designating it as a national monument.
It's one of the few powers that allows the executive branch to completely bypass congressional opposition. Roosevelt and all of his successors in the Oval Office — except Richard Nixon — have used the act more than 100 times.
President Jimmy Carter designated 15 monuments in Alaska, despite strong opposition from Congress.
President Bill Clinton created the Grand-Staircase National Monument in Utah during an election year. The irony of his standing on the Arizona side of the Grand Canyon while designating a national monument entirely in Utah was noticed approvingly by friends and disparagingly by foes.
President Barack Obama has already followed suit, with the Organ Mountains-Desert Peaks National Monument in New Mexico and a number of other monuments.
The Administration is being urged to create even more national monuments — monuments that cover thousands or even millions of acres and for which there is little local support. Greater Canyonlands, for example, covers 1.8 million acres surrounding Canyonlands National Park. The pressure has been so intense that Secretary of the Interior Sally Jewell recently announced plans for a massive increase in national monuments covering millions of acres that are currently managed for multiple uses.
Economic impact studies are being used to justify designating monuments. These studies claim local economies benefit when the government increases public lands protection from multiple use to more restricted designations such as national monuments.
In their letter to the President, the 14 Senators cited the economic value of protected landscapes in the West, especially in Utah, as significant and growing. They state:
"The outdoor recreation economy is a sustainable one, worth more than $5 billion annually in Utah and more than and more than $646 billion nationwide. American public lands that receive protection help drive economic growth."
Their assertion that protected public lands help drive economic growth, while supported by some outside research, is not accurately addressing the complex variables and volatile geopolitical events and changes that would affect economic conditions.
We attempted to replicate the results of studies like those cited taking into account these factors, and failed to find the same consistent positive results.
That is, using a careful methodology and making comparisons between counties through time, we find at best no effect on local economies and, more likely, negative effects of monument designations.
For example, we evaluated the Grand Staircase-Escalante National Monument, which was created by Clinton in 1996. As with studies about Organ Mountains-Desert Peaks, there were predictions of increased economic activity because of the designation.
We found none of the predicted increases in economic activity.
But economic development is not why national monuments should be created. Monuments created under the Antiquities Act were meant to preserve scientifically and culturally valuable sites.
If an area qualifies under the purposes of the Antiquities Act, then Obama potentially could be justified in creating a new national monument.
But he ought not to hide behind dubious claims about economic development.
Randy Simmons, professor of economics and finance at Utah State University, and Ryan Yonk, professor of political science and criminal justice at Southern Utah University, are co-founders of Strata, a public policy research organization focused on environmental, energy, and public land issues.