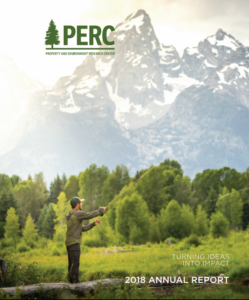 PERC had a banner year in 2018. We saw three major policy victories, doubled our policymaker engagements, and significantly expanded partnerships with both conservation and policy partners. These wins are positioning PERC to turn more ideas into impact in unprecedented ways.
But our goal is bigger than just numbers. It's about the real-world conservation successes that our work is making possible. These include providing an innovative solution to the billion dollar wild horse crisis, reforming the way our national parks are managed so we can recreate without the threat of a failing infrastructure, and recovering endangered species by better aligning incentives for landowners, states, and conservationists.
---
---
This is our impact—conservation success that leaves our children with stunning landscapes, crystal clear waters, and thriving wildlife populations—all achieved through cooperation, not force.
In the coming years, we will build upon this momentum, as we continue to prove that free market environmentalism is the best way to achieve lasting conservation wins.