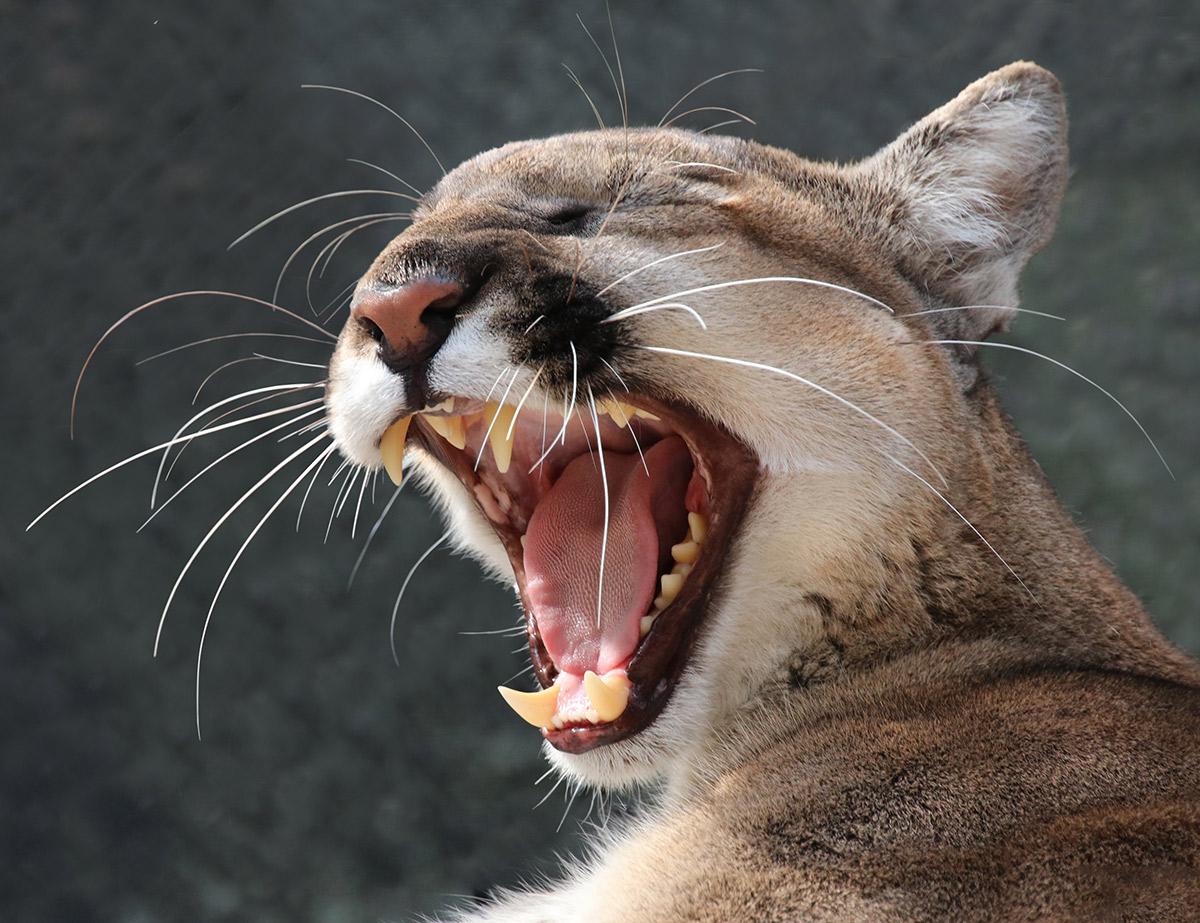 This special issue of PERC Reports examines the Endangered Species Act with an eye toward improving the incentives for species recovery. Read the full issue.
When the Endangered Species Act passed 50 years ago, its ultimate goal was clear: to recover listed species to the point that they no longer need the act's protections. Fifty years later, how much progress has been made to recover listed species? A new analysis by PERC examines the status of endangered species recovery. Read the full analysis and explore recovery-plan progress for all listed species.
Although nearly all listed species have avoided extinction, few have recovered and been delisted.
Over the past half-century, 1,732 domestic species have been listed under the Endangered Species Act. Of these, 57 (3 percent of all listed species) have recovered, while 11 (1 percent) have gone extinct.
Most listed species (73 percent) are classified as endangered, meaning they are in danger of extinction The remaining 23 percent are considered threatened, meaning they are likely to become endangered within the foreseeable future. In total, only 59 species have been upgraded from endangered to threatened over the past fifty years.
Recovery progress has been slow for many species, with some species remaining listed decades longer than anticipated.
The U.S. Fish and Wildlife Service has recovered far fewer species than it projected to recover by now. The agency projected that it would recover 300 listed species by 2023—about six species per year. Instead, only 57 species have recovered—a rate of about one species a year on average.
As a result, many species remain listed far longer than expected.
A total of 287 species are past their projected recovery dates, based on Fish and Wildlife Service projections. These species are an average of 11 years overdue for recovery. At the current rate of recovery, it would take another 70 years to recover these overdue species.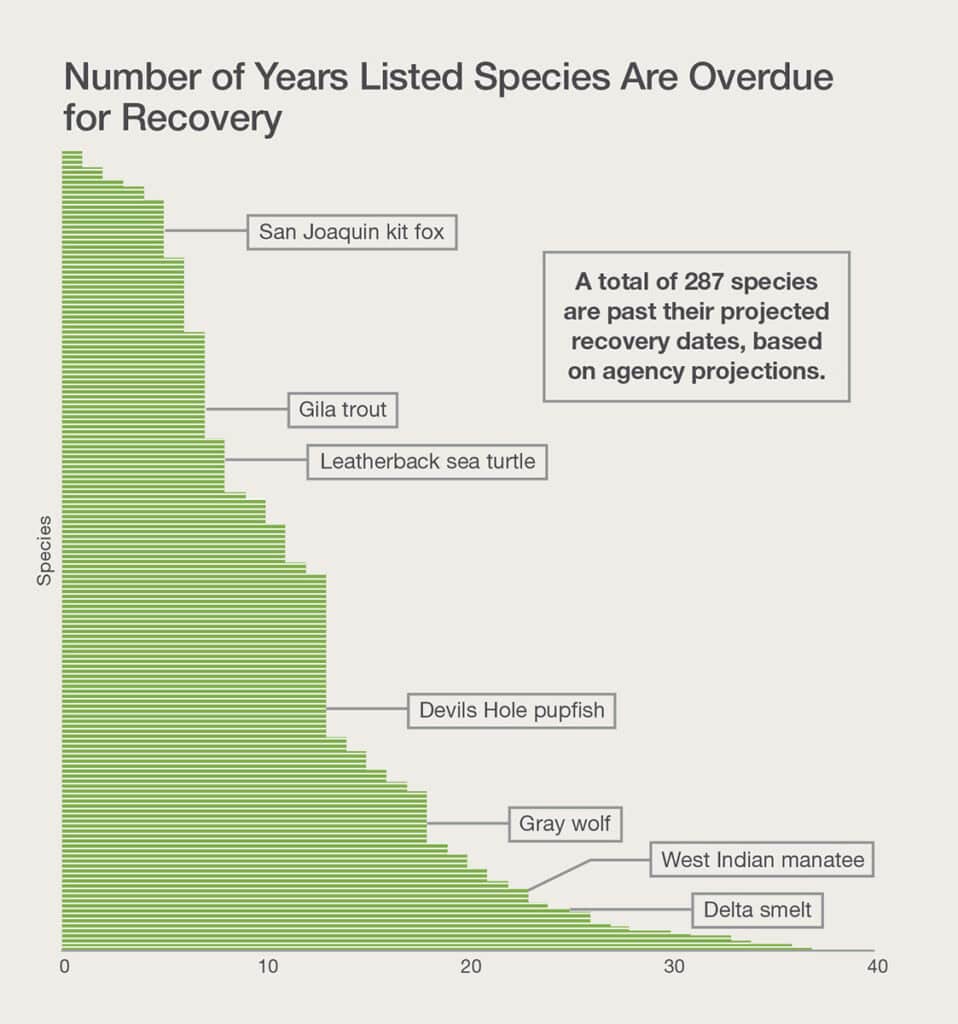 According to its own assessments, the Fish and Wildlife Service struggles to meet its recovery objectives for most species.
Most species are required to have recovery plans, a document that outlines steps toward recovery. Yet the Fish and Wildlife Service reports a consistent lack of progress at implementing those plans. Based on its own assessments, the agency has completed less than a quarter of its recovery actions for 85 percent of listed species. Even when only considering species listed for more than 30 years, most still lack significant progress in their recovery plans.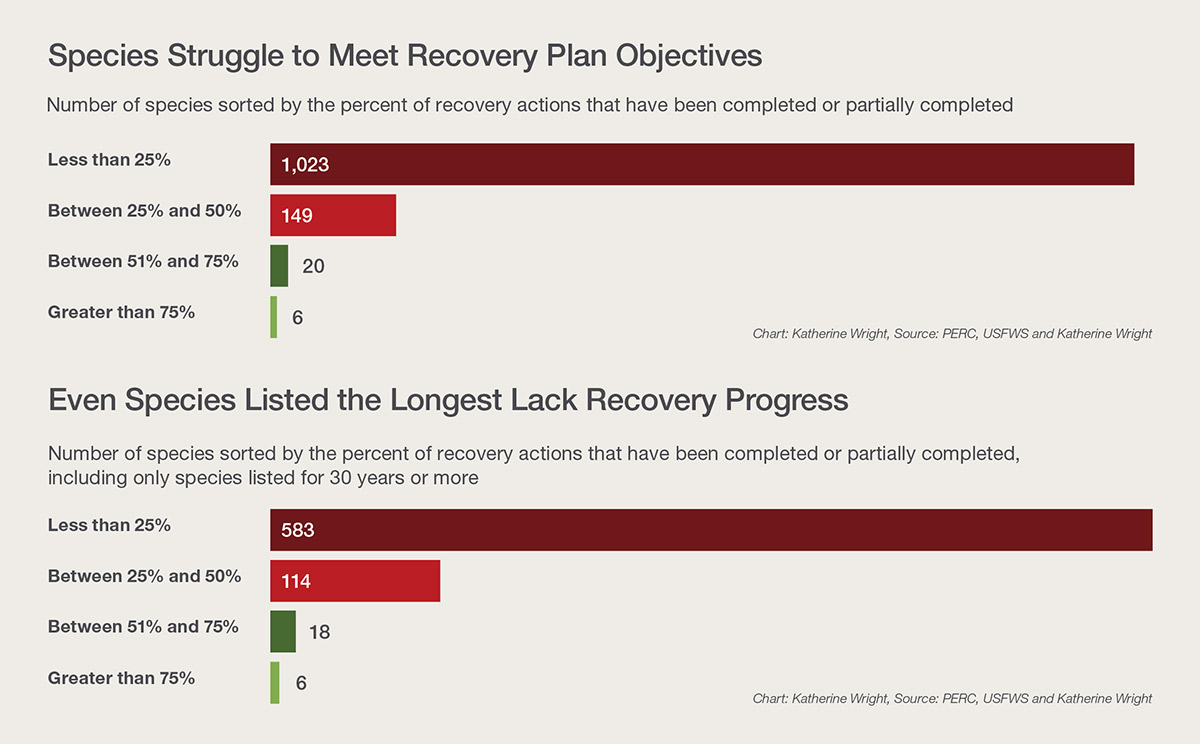 As the Endangered Species Act enters its second half-century, much more work is needed to recover listed species.
Fifty years after the Endangered Species Act was enacted, recovery progress remains slow. Few listed species have recovered, and the Fish and Wildlife Service has fallen significantly behind its own projections for species recovery. These findings highlight the need to reevaluate and improve the act and its implementation to ensure more effective and timely outcomes for species conservation over the next half-century.
Explore the full analysis in Missing the Mark: How the Endangered Species Act Falls Short of Its Own Recovery Goals.