Terry L. Anderson, Editor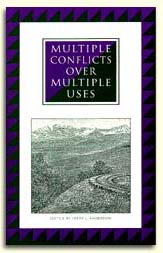 This volume examines the prospects for reducing conflicts over public land management by substituting
markets for bureaucracies. The conclusion is that a healthy dose of free market environmentalism is the
best way to eliminate conflicts over multiple uses, to reduce the drain of the federal treasury and to
promote cooperation.
Terry L. Anderson is the executive director of PERC and a professor of economics at Montana State
University.
PERC
502 S. 19th Ave.
Bozeman MT 59718
406-587-9591
E-mail perc@perc.org
1994; 103 pp.