The Privatization Process:
A Worldwide Perspective
Terry L. Anderson and Peter J. Hill, Editors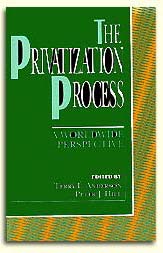 Many economies are actively engaging in rapid privatization of state assets using a variety of procedures, some successful and some not. In this volume, several noted authorities on institutions and institutional reform analyze the prerequisites for successful privatization, the path of reform in different economies, and the degree to which various equity and efficiency goals are met by alternative mechanisms. Various chapters look at the creation of rights to land on the Brazilian frontier, New Zealand's experiment with institutional reform, China's attempt to decollectivize agriculture and spontaneous privatization in the formerly Communist countries.
Terry L. Anderson is the executive director of PERC and a professor of economics at Montana State University. Peter J. Hill is a PERC senior associate and a professor of economics at Wheaton College.
Rowman & Littlefield Publishers, Inc.
4720 Boston Way
Lanham, MD 20706
800-462-6420
www.rowmanlittlefield.com
1996; 270 pp.