Terry L. Anderson and Peter J. Hill, Editors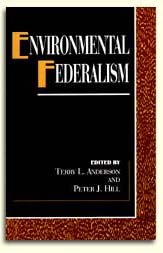 Twenty-five years of centralization has produced "one-size-fits-all" environmental regulations which are extremely costly. While recognizing that most externalities cross state boundaries, the authors argue that most problems can be solved at the state or local level and consider a range of resource issues, including land, water, wildlife, pesticides, and pollution. There is no evidence that state or local control results in a "race to the bottom," with bad policy driving out good. The devolution of environmental policy to lower levels of government is an idea whose time has come.
Contributors: Terry Anderson Karol Ceplo Sally Fairfax David Haddock Peter Hill Dean Lueck Andrew Morriss Robert Nelson David Schoenbrod Barton Thompson Bruce Yandle Jonathan Yoder
Rowman & Littlefield Publishers, Inc.
4720 Boston Way
Lanham, MD 20706
800-462-6420
www.rowmanlittlefield.com
1997.