Terry L. Anderson and Henry I. Miller, M.D. Editors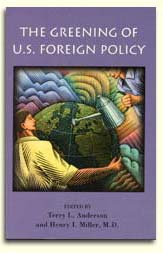 Since then Secretary of State Warren Christopher's announcement in 1996 of an increased emphasis
on environmental issues, the environmental movement has moved the policy agenda beyond local and even
national boundaries into the foreign policy debate. In this book, a group of scholars takes a hard look
at how environmental concerns have come to help determine U.S. foreign policy.
This collection of essays ultimately illustrates how expensive the greening of U.S. foreign policy
has become and tells how we can find alternatives to government intervention based on free market
environmentalism. If the threats of environmentalism are as real as we are led to believe, they can be
handled better by returning to the traditional principles of the free society based on the rule of law.
Hoover Institution Press
Stanford University
Stanford CA 94305
800-935-2882
2000; 314 pp.
PERC
502 S. 19th Ave.
Bozeman MT 59718
406-587-9591
E-mail perc@perc.org