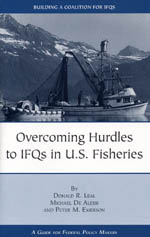 By Donald R. Leal, Michael De Alessi, and Peter M. Emerson
For decades, U.S. federal fisheries policy has relied solely on direct regulations to prevent overfishing. Such an approach has not eliminated overfishing, nor has it prevented the enormous waste and hazard of fishing under a destructive race for fish.
The good news is that there is a better way to manage our ocean fisheries. Individual fishing quotas (IFQs), also called individual transferable quotas (ITQs), have proven effective in restoring health and sanity ini a host of fisheries areound the globe.
In spite of these successes, IFQ implementation faces obstacles. The key issues are: 1. whether an effective system can include both IFQs and individual processor quotas (IPQs); 2. what restrictions if any, to place on transferring IFQs; and 3. whether or not to place a sunset provision on IFQs. This essay provides an overview of the IFQs and addresses these hurdles. It is one of a series of booklets that will be jointly prepared by associates of PERC, the Reason Policy Institute, and Environmental Defense as they build a coalition for IFQs.