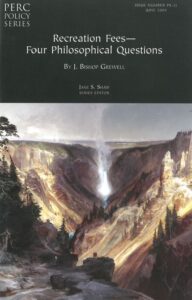 Beginning in 1996, the federal government started raising (and in some cases newly instituting) recreation fees on public lands and using them at the sites where they were collected. This Fee Demonstration Program, which is scheduled to end in 2004, has sparked a debate over ethical and practical issues.
For example, do such fees keep low-income people from enjoying national parks and forests? Are fees "double taxation"? Are they commercializing our national parks? The answers are not easy or obvious. Distilling these concerns into four specific questions, J. Bishop Grewell thoughtfully addresses them in this essay, "Recreation Fees — Four Philosophical Questions
The essay is part of the PERC Policy Series , which applies PERC's knowledge of property rights and markets to timely issues. PERC, the Property and Environment Research Center, in Bozeman, Montana, is a non-profit institute dedicated to improving environmental quality through markets.
Download the full report, including endnotes and references.