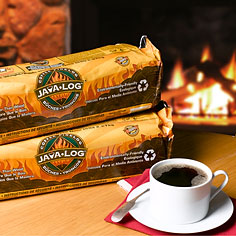 On a snowy winter evening, there is nothing like a good book, an overstuffed couch, and a freshly brewed log on the fire. For those who don't have easy access to an ax and a forest, the local supermarket typically has plenty of artificial logs made from sawdust and paraffin that will burn warm and bright in your fi replace. But leave it to craft y inventors to come up with an alternative—and probably a better one.
Rod Sprules, an engineer with extensive experience in product development, made the first java log by packing an empty cigar tube with dried coffee grounds and lighting it at the dining table. He and his wife watched in fascination as it burned brilliantly with very little smoke.
And thus it began. The New York Times reports that Sprules's engineering textbooks confirmed that coffee grounds have 25 percent more energy capacity than wood, 96 percent less residue after combustion, 85 percent less carbon monoxide, 86 percent less creosote deposits, and 31 percent less particulate matter.
Combine those hard numbers with the coffee houses that are springing up on every corner and the fact that coffee is one of the world's most widely traded commodities, and Sprules knew he was onto something.
Thus began a long process of tinkering in the garage and dumpster-diving for coffee grounds as well as seeking a financial backer. In the long run, it all paid off with the creation of the Java-Log, which earned enthusiastic reviews from the likes of Time magazine. The log produces brighter, higher flames than the typical sawdust log, emits more heat, and burns for approximately the same length of time. It has a slightly sweet aroma—not the soothing scent of hot java, but not the chemical odor that comes from some artificial logs.
Aside from the aesthetic values of the Java-Log, it also puts coffee grounds to good use and keeps both the air and your chimney cleaner than if you were burning wood products. Sprules is currently getting all of his coffee grounds from a freeze-dried coffee manufacturer, but is negotiating with Starbucks and Krispy Kreme for their used grounds.
Although the logs are 50 cents to a dollar more than their sawdust counterparts, they satisfy java drinkers who like to see their coffee grounds reused while providing bright flames in the fireplace. For those who can't  find a Java-Log nearby, order online at  www.java-log.com.