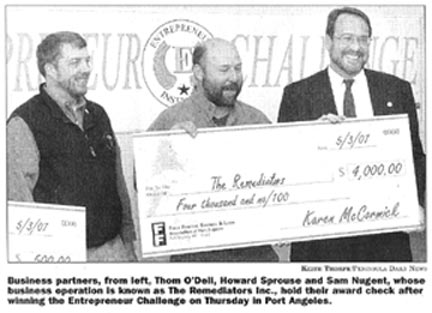 The Remediators Inc. not only won the "Best New Business Idea" award, on the same day, the Navy notified the firm that it had been award "sole-source" standing for innovative technology. This means that anyone within the Navy that is interested in testing a cleanup using innovative tech can use its service for remediation without putting it out to bid.
Sam Nugent, on of the founding partners of The Remediators he participated in PERC's enviropreneur program in 2003 in Bozeman, Montana. His business success is proof that it is possible for those who are concerned with environmental quality to do good while doing well.
The web site (http://www.theremediators.com/) for The Remediators contains much valuable information. The following, from the site gives a concise explanation of what they do:
"The Remediators Inc clean contaminated soil using fungi. This process is known as fungal bioremediation or micro-floral enhancement™.
Located in Port Angeles, Washington, The Remediators offers affordable on-site clean-up of many types of chemically contaminated soils. Products and services are suitable for safe, effective elimination of persistent toxic hydrocarbon compounds including petroleum, petroleum derivatives, pesticides, spent munitions, and a potential new treatment for dioxins, just to name a few.
The Remediators process relies on the natural ability micro-organisms to dissolve organic compounds. Studies have shown fungi to be effective in decomposing a wide variety of toxic substances.
The successful remediation of soil contaminants can often be accomplished at a fraction of the costs of conventional soil remediation services, such as thermal incineration, sparging, chemical oxidation or other commonly used practices..
We invite you to browse our site to learn more about soils decontamination, and then contact us, either by phone at 360-565-2065 or contact us by email at: info@theremediators.com"