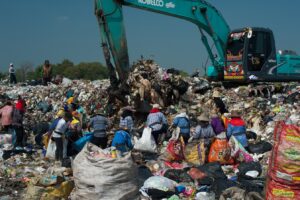 EBay still generates more revenue, but 1-800-Got-Junk is no slouch, with 300 locations in four countries and expected revenues of $150 million this year. This company lends a personal touch to the overwhelming task of sorting and hauling away your junk. In some cases, it rescues people who are nearly drowning in their own stuff.
Brian Scudamore founded the company in 1989 with the high-minded goal of professionalizing the trash hauling business, according to National Public Radio. More than that, he saw a need and no one to fill it. In an increasingly materialistic world, lots of people go through life collecting stuff. When that stuff becomes heaps and mounds covering work benches, spilling out of boxes, burying desks, tables, and countertops, Got Junk is ready to lend a helping hand— for a price, that is. After the death of her brother, a Seattle woman paid $1,200 to have his house and yard cleaned and all items disposed of in preparation for a listing with a real estate agent. The workers cleaned out the house in a single afternoon and even swept the garage before they left.
In a typical scenario, skilled employees in neat uniforms tackle the yard first, sorting through piles of lumber, old wood, broken lawn furniture and rusted garden tools. They unburden the garage of weed eaters, compressors, and tackle boxes, then move on to the attic and basement where they remove stacks of old magazines and newspapers, rolls of yellowed wall paper, and the baby's crib from 1945. Workers not only set aside valuable items, but determine what items can be recycled. The company estimates that as much as 60 percent of what appears to be trash can be recycled, resold, or reused. Of course, there are always exceptions such as urns of ashes, a truck load of denture molds, 18,000 cans of expired sardines, and a diffused bomb from World War II.
Yard sales are deeply embedded in American culture, but for those who haven't been able to park in the garage for five years, a visit from 1-800-Got-Junk could be well worth the price.