Edited by Donald R. Leal and Vishwanie Maharaj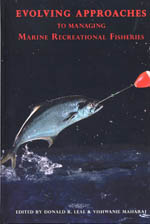 Increasing coastal populations, rising recreational demand, and growing conflicts with other users are adding to the challenge of managing marine recreational fisheries today. Traditional regulations—such as daily bag limits and seasonal closures—are often not enough to control fishing impacts and they tend to generate greater discontent and lower economic benefits in the angling community as they become more restrictive.
This volume is the first to examine management approaches that promise to better control fishing, generate more information on fishing impacts, and give anglers more freedom to enjoy their sport.