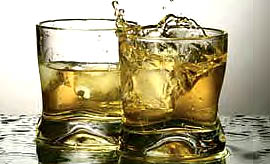 While the economy sputters and stalls, whiskey makers are on cruise control. At first, it might appear that the usual crowd is drowning its sorrows in more drink, but in fact whiskey is in high demand in new markets, especially China and other Asian nations. Consumption has increased 15 percent in the past 10 years. In response, old distilleries are being brought back to life, new ones are being built, and some unexpected consequences are in store for Scotch drinkers. In the future, they can sip their favorite malt while contemplating the environmental benefits of whiskey drinking. Their favorite distilleries will be generating clean, renewable energy and a new source of heat.
In Speyside, Scotland, the heart of the whiskey industry, a consortium of distillers has announced plans to build a biomass-fueled heat and power plant. The plant will use distillery by-products and wood chips to generate 7.2 megawatts of electricity, enough to power about 9,000 homes. The heat and power will be used by the local community, fed to the national grid, or used at the site by the distillers.
Specifically, the plant will burn draff, a solid grain product that is removed from the mash before fermentation. Pot ale, another by-product, also will be put to good use. By adding another processing plant to the project, the distillers can turn this high-protein liquid residue into a concentrated organic fertilizer for local farmers. Scotch whiskey—that warm, bracing amber refreshment seems destined to take on a greenish tinge.
For more information visitwww.scotlandwhiskey.com.