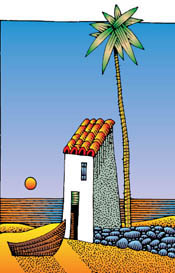 This fall, the U.S. Supreme Court will hear Stop the Beach Renourishment v. Florida Department of Environmental Protection, a case that raises the question of when, if ever, a judicial decision constitutes a taking of private property. By ruling that state courts must answer to the Takings Clause, the Supreme Court can protect private property rights from what has become an end run around the United States Constitution.
At issue in Stop the Beach Renourishment is a government plan to create a state-owned public beach, 60 to 120 feet wide, between private waterfront properties and the Gulf of Mexico. The plan replaces the mean high water line (MHWL), a mark that moves over time as the shore line recedes and advances, with a fixed erosion control line (ECL) as the boundary between private and public property. In so doing, the renourishment plan deprives beachfront property owners of the right to land surrendered by the ocean—a right clearly established under settled principles of Florida property law.
But in order to uphold the renourishment plan and creation of the public beach, the Florida Supreme Court abandoned the decades-old property laws establishing private property rights to land deposited by the ocean. This abrupt reversal of the law, the landowners argue, constitutes an uncompensated taking of private property in violation of the Fifth and Fourteenth Amendments. As such, the importance of this case extends beyond the littoral rights of Florida landowners and hits at what some legal scholars consider a loophole in the constitutional protection of private property rights: judicial takings.
The judicial takings issue comes up when a state legislature passes a law that appears to take private property rights and, when ruling on a takings challenge to that statute, a state court rules that the claimed property right never existed, thus rejecting the takings challenge on the basis that there is nothing to take. Because individual states define what does and does not qualify as property in that state, the U.S. Supreme Court has been unwilling to intervene and insert itself as the final arbiter of a state law issue.
Several Supreme Court justices have hinted, however, that a state court opinion clearly inconsistent with state law precedent would violate a property owner's federal constitutional rights. In a concurring opinion, Justice Stewart noted in Hughes v. Washington (1967) that "a State cannot be permitted to defeat the constitutional prohibition against taking property without due process of law by the simple device of asserting retroactively that the property it has taken never existed at all." Similarly, dissenting in Stevens v. City of Canon Beach (1994), Justice Scalia argued that "No more by judicial decree than by legislative fiat may a State transform private property into public property without compensation."
According to D. Kent Safriet, attorney for the beachfront property owners, Stop the Beach Renourishment presents the Supreme Court with an opportunity to restrain activist state courts from invoking "nonexistent rules of state substantive law to avoid takings claims by declaring no property rights ever existed." By doing so, the Court can take an important step toward bolstering the constitutional protection of private property rights.
Reed Watson is a research fellow and Coordinator of Applied Programs at PERC.
Reed can be reached at reed@perc.org.