Here are the latest lectures from PERC scholars.
1. Bruce Yandle – "Bootleggers, Baptists, and the Government Habit"
[vimeo 16505920]
Senior fellow Bruce Yandle discusses government regulation and his Bootleggers and Baptist theory with the Nassau Institute last month. See the larger version here.
2. Terry Anderson – "The Case for Environmental Markets – TANSTAAE²"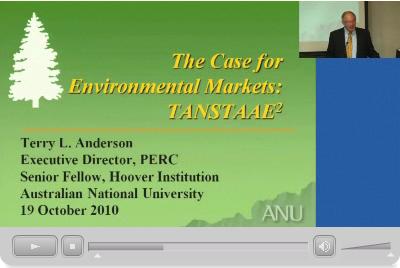 PERC executive director Terry Anderson makes the case for markets and property rights as solutions for environmental problems at Australian National University. To watch, select Terry's lecture from the list on ANU's website.
UPDATE 11/23: Terry Anderson's video seems to be offline for the moment.