Brett Howell is a 2011 graduate of the PERC Enviropreneur Institute.
By Colleen Setz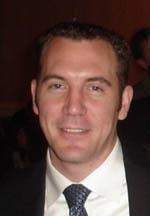 Brett Howell received his MBA from Leeds School of Business in May 2010 with a concentration in Real Estate and Sustainability. As part of his MBA coursework Brett took CESR's Social Entrepreneurship in Emerging Markets, taught by Francy Milner, where his student team project was on an eco-lodge in Honduras. "My time at CU", said Brett, "introduced me to the world of social entrepreneurship, educating me about how business principles could be applied to "doing good by doing well."
Brett joined the Georgia Aquarium in October 2011 as the Walker Conservation Fellow with support from the Alex C. Walker Foundation to explore applying market-based approaches to making coral reef restoration financially sustainable. "My CU MBA changed the way I view the world and encouraged me to think about ways that markets could help solve environmental problems. The project with Georgia Aquarium is the next step – the chance to test the application of market-based approaches to coral reef conservation," Brett said. He is focusing initially on the Florida Keys National Marine Sanctuary working through an existing collaboration between the Coral Restoration Foundation and the Georgia Aquarium. He recently received approval from the Georgia Aquarium to hire a CU intern and is also planning to work with an undergraduate or MBA team for a class project.
Opened in 2005, the Georgia Aquarium, is the world's largest aquarium, with more than 10 million gallons of water and over 60 exhibits. One of the Georgia Aquarium's major goals is to be the leading facility for aquatic animal conservation and research. The aquarium's state-of-the-art animal health facility, the Correll Center for Aquatic Animal Health, was designed by world class veterinarian professionals and conservation organizations. It is the only integration of an aquarium and a veterinarian teaching hospital in the world. On a more global scale, the Georgia Aquarium supports, conducts and leads research on environmental and conservation issues.
Brett is testing the application of Ecological Economics and Marine Payment for Ecosystem Services (MPES) models, an idea that he developed over the course of the last year to apply concepts from real estate valuation to marine conservation.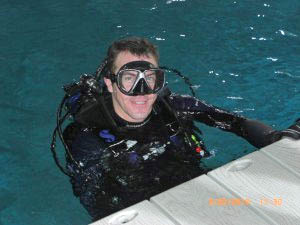 The project draws upon a variety of techniques not traditionally applied to the marine environment to address long-term coral restoration and ecosystem recovery. If successful, the MPES model has the potential to be replicated worldwide, helping to restore reefs to their former condition and maintain them as havens of biodiversity.
Brett's academic and professional background uniquely prepared him for this project. In addition to his MBA from the University of Colorado Leeds School of Business, Brett has a Bachelor of Science in Communication with double majors in Environmental Planning and Public Relations from the University of Miami. He is a U.S. Green Building Council Leadership in Energy and Environmental Design Accredited Professional (LEED AP) and is ARGUS Software Certified (ASC). Brett is a 2011 graduate of the Property & Environment Research Center's (PERC) "Enviropreneur Institute" which focuses on empowering environmental entrepreneurs in the application of property, contracts, and markets to enhance environmental assets. Brett has more than seven years of experience across real estate, engineering, environmental, and management consulting, working with Booz Allen Hamilton, CH2M HILL, YES! Communities, and PBS&J.
Growing up in San Diego, Brett developed a love of the ocean as a young child and has been an avid SCUBA diver since his early teens. The Walker Conservation Fellowship finally allows him to translate this passion into a career involving marine conservation and sustainability.
Brett stated "I have had a lifelong interest in marine conservation and a background that spans marketing, real estate and environmental planning (including my MBA from CU Boulder), and over the course of the last year I came up with a highly innovative scheme for applying real estate concepts to coral reef conservation. To make a long story short, the Georgia Aquarium became very interested in my idea and brought me on board for the next two years to see if the idea can be developed into something scalable."
Congratulations Brett! We are thrilled that you are using your MBA from Leeds in such an innovative, entrepreneurial and environmentally and socially beneficial way.
 Colleen Seltz is on the staff at CESR (Center for Education on Social Responsibility) Leeds School of Business, University of Colorado, Boulder.