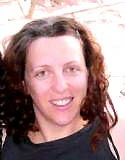 PERC Enviropreneur Institute 2011 alumna Shira Kronich is working to find solutions to shared environmental problems in the Middle East. As a project manager for the Arava Institute of Environmental Studies in Southern Israel, Kronich coordinates the first UNDP trans-boundary Israeli-Palestinian project, "Peace Building through Wastewater Treatment." The tensions in the Middle East are exacerbated by the scarcity of clean water, as well as from the polluted wastewater that traverses geopolitical boundaries. By encouraging environmental cooperation, Kronich is working toward peace and sustainable wastewater development.
Q: What is the current situation regarding wastewater in the West Bank? How does this affect Israeli aquifers?
A: The Palestinian Authority's centralized wastewater collection networks do not service the majority of residents in the West Bank, where only 54 percent of wastewater is collected and about 90 percent of sewage produced  is discharged untreated into the environment. Generally, the cesspits that are used for storing wastewater are unlined―allowing sewage to percolate into the ground and pollute the groundwater. In addition, most of the pits are emptied with vacuum tankers that often dump the waste in open areas or in valleys. Roughly 60 million cubic meters of raw sewage are discharged into the environment in the West Bank every year. This degradation not only poses serious environmental and public health risks, but also causes cross border conflict as the sewage generated upstream in the West Bank flows downstream into Israel. As the raw sewage flows downstream it hinders Israeli attempts to rehabilitate surface and groundwater, further reducing already limited transboundary water resources.
Q: What services does "Peace Building through Wastewater Treatment" provide? 
A: Our project is a pilot program, which if extended, will represent a sustainable and comprehensive wastewater infrastructure solution for Al 'Oja village in the West Bank. This project is grounded on a decentralized and collaborative approach. Collaboration is envisaged by combining Israeli and Palestinian expertise in wastewater treatment and reuse. The cross fertilization of ideas will allow for both Israelis and Palestinians to resolve the wastewater treatment problem in the West Bank to the benefit of both parties. In short, this project has two outputs: improved wastewater management systems in the targeted communities and promotion of dialogue between Palestinians and the Israeli.
Q: How will solving wastewater disputes help relieve tensions in the region?
A: A guiding assumption for the project is that relationships yield partnerships, regional environmental projects, and inter-municipal agreements and thereby reduce conflict. If such relationships can be replicated, then local communities will share the responsibilities―costs and benefits―from joint wastewater treatment projects. There is great benefit in rethinking the water scarcity situation in Israel and Palestine, not from a national view, but rather from a supra national perspective. The gap in public perception, understanding, and policy is still large in relation to issues traditionally regarded as national, such as water distribution and wastewater infrastructure. The project aims to strengthen dialogue between the Palestinians and Israelis at different levels through the transfer of knowledge and training activities.
Q: What did you take away from PERC's Enviropreneur Institute?
A: The access to very experienced and knowledgeable professionals for information exchange and guidance was immensely positive. Additionally, it was rewarding to meet new people and broaden my professional network. Market-based solutions and a sounder understanding of the need for incentives, has helped me develop my project and I hope to slowly implement these issues into my work in the Israeli-Palestinian context.
Applications for PERC's 2012 Enviropreneur Institute are now open. The deadline to apply has been extended to March 12th. For more information, watch the video and visit www.enviropreneurs.org.