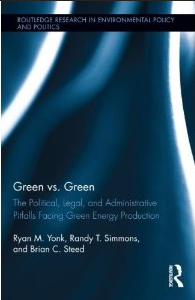 Renewable and carbon-neutral energy have been promoted as the future of energy production in the United States. Non-traditional energy sources show promise as alternatives to fossil fuels and may provide a sustainable source of energy in increasingly uncertain energy markets. However, these new sources of energy face their own set of political, administrative, and legal challenges. Green vs. Green explores how mixed land ownership and existing law and regulation present serious challenges to the development of alternative energy sources in the United States.
Analytically examining and comparing five green energy sectors; wind, solar, geothermal, biofuel and hydro power, Ryan M. Yonk, Randy T. Simmons, and Brian C. Steed argue that discussing alternative energy without understanding these pitfalls creates unrealistic expectations regarding the ability to substitute "green" energy for traditional sources. The micro-goals of protecting individual areas, species, small-scale ecosystems, and other local environmental aims often limits ability to achieve macro-goals like preventing global climate change or transitioning to large-scale green energy production. Statutes and regulations designed to protect environmental and cultural integrity from degradation directly conflict with other stated environmental ends. Although there is substantial interest in adding clean energy to the grid, it appears that localized environmental interests interfere with broader environmental policy goals and the application of existing environmental laws and regulations may push us closer to gridlock.
Green vs. Green provides a fascinating look into how existing environmental law created or will create substantial regulatory hurdles for future energy generations.
Review
To effectively mitigate against climate change, the U.S. needs coherent policies that support the delivery of clean energy to the market. Filled with lucid and poignant examples, this book thoughtfully shows how our often-conflicted regulatory environment impedes the efforts of clean energy entrepreneurs to implement their ideas.

— Eric Coleman
Florida State University