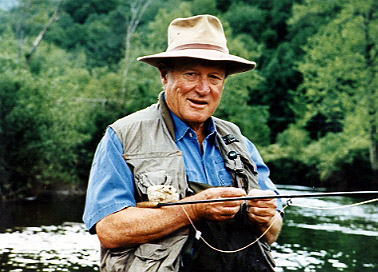 Today we celebrate the 85th birthday of one of PERC's most cherished Board Members, Leigh Perkins. Leigh combined his love of sport with a sharp mind for business when in 1965 he purchased The Orvis Company, creating one of the largest and most respected outdoor stores in the nation. After turning the business over to his sons in 1992, Leigh has been able to spend more time with the things he loves–birds, dogs, and grandchildren. Plus he has had a lot more time for the kind of charitable philanthropic work in which he has always been involved.
Leigh has supported private solutions to land and water conservation for many years. He has been a national board member of: The Nature Conservancy; The National Fish and Wildlife Foundation; Tall Timbers Research Station and Land Conservancy; and past President of the Ruffed Grouse Society. He has also served on the Boards of the Cleveland Museum of Natural History and The Cleveland Scholarship Foundation; and continues to serve on the Board of The American Museum of Fly Fishing, which he founded.
Leigh's contributions to PERC over the years have been immeasurable. Not only a leader in promoting environmental solutions with business acumen, Leigh has been a friend and longtime PERC supporter. The entire PERC staff and family would like to thank Leigh for helping PERC achieve so many success stories and to wish him a very happy birthday!