Throwback Thursday: From the Archives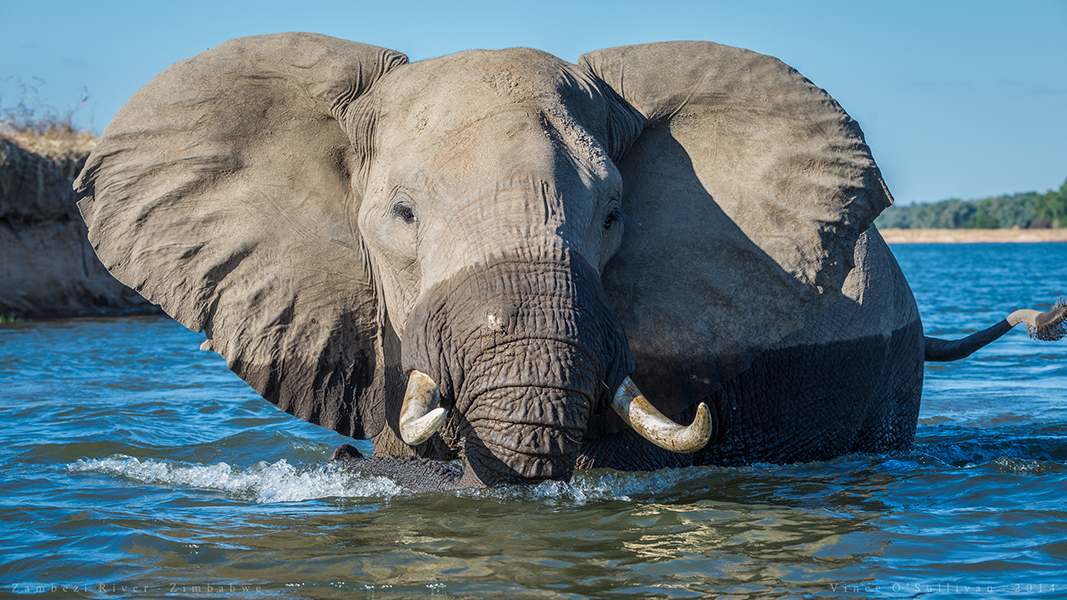 Zambezi River – Zimbabwe. Photo by Vince O'Sullivan.
Today, March 3, is World Wildlife Day, a time to celebrate the many species found on our planet and to raise awareness for wildlife conservation. This year, World Wildlife Day is themed "The future of wildlife is in our hands" and focuses on the plight of the elephant.
Twenty five years ago, Terry Anderson made a trip to southern Africa to learn more about threats to wildlife, including the increasing amount of elephant poaching. He realized that the future of wildlife is not in our hands, but is instead in the hands of those who pay the costs of living with wild animals. Anderson described how market-based wildlife policies, not trade bans, are what actually save wildlife in the December 1991 edition of PERC Reports:
On a recent trip to Southern Africa, I was pleased to find thriving wildlife populations. For example, in the Zambezi River Valley of northern Zimbabwe – an area twice the size of Maryland – there are 2,000 elephants, 56,000 cape buffalo, 2,000 lions, 230,000 impala, and 50,000 warthogs. Can a developing country such as Zimbabwe maintain them? A market-based program holds promise, and provides lessons for the U.S. as well.

…

Zimbabwe's Department of National Parks and Wild Life Management has developed a program that shifts responsibility for wildlife management from the state to local councils. Known as Campfire (Communal Area Management Programme for Indigenous Resources), the program is based on the principle that the benefits from wildlife must go to those who pay the financial and social costs of having to co-exist with wild animals: Locals are encouraged to "profit" from wildlife resources.

…

A report from the World Wildlife Fund estimates that the total "wildlife dividend" in 1989 – the profit from these programs – increased household incomes by 15% to 25%. Though the program is still in its infancy, it appears to reduce poaching and habitat destruction, as the local people begin to view wild animals as a valuable asset.

…

By establishing a local proprietary interest in wildlife, including the ability to profit from it, it is possible to sustain wild animal populations in the face of development. In short, what is economical is also ecological.
Today, despite the historical evidence that market-based conservation saves wildlife populations, elephant populations remain volatile because of our reliance on trade bans. Governments remain reluctant to allow trade of animals and private ownership of wildlife resources, despite the successes experienced by everything from rhinos to fish.
Throughout our history, PERC has been involved in the issues facing wildlife. Anderson and other PERC scholars have long compared the results of trade bans and private wildlife management at home and around the world. Their research continues to show that property rights matter – when local people have ownership of a share of wildlife and can privately benefit from the presence of wildlife, they protect the resource and populations increase. We realize that when wildlife pays it stays. PERC remains a leader in the fight to abandon trade bans in favor of market structures that make animals an asset.
To learn more about how property rights can conserve wildlife, check out PERC's work on wildlife.
Read the original article in full here.