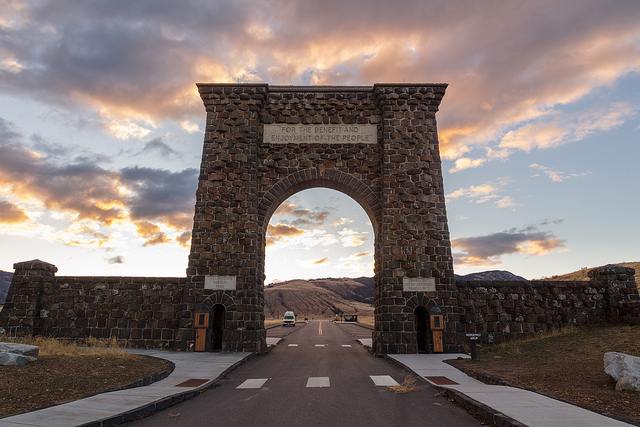 When the Interior Department recently announced that it wanted to raise peak-season entry fees at 17 popular national parks to $70 per vehicle, some took it as an affront to the democratic notion that public lands are for everyone. The Outdoor Industry Association noted its concern that the "move could leave some visitors priced out of the parks." It also took the opportunity to call for Congress to simply set aside more money for "outdoor recreation infrastructure like our parks and other public lands."
So far that strategy hasn't worked. Overdue maintenance projects facing federal land agencies amount to more than $11 billion for national parks and $5 billion for national forests. Yet legislators continue to allocate enough funds to cover only a mere fraction of that maintenance.
It's time for hikers and other outdoor enthusiasts to leave more than footprints when they recreate on public lands. If our parks, forests, and wilderness areas are truly national treasures, then outdoor recreationists should have no qualms paying to enjoy — and support — them.
After the proposed price increase for parks, the National Parks Conservation Association also voiced worries: "We should not increase fees to such a degree as to make these places — protected for all Americans to experience — unaffordable for some families to visit," adding that "the solution to our parks' repair needs cannot and should not be largely shouldered by its visitors."
The sentiments don't stand up to scrutiny. For one thing, only 28 percent of the more than 400 sites managed by the National Park Service charge entry fees. And where admission fees are charged, they make up a small portion of the cost of the average park visit — just 3 percent according to visitor data from "destination" parks like Yellowstone and Yosemite.
For a typical family visit, expenses for transportation, lodging, and food will swamp the cost of park fees. Truly making parks accessible to low-income families or underserved demographics would require a system of discounts or vouchers that covered much more than admission.
More saliently, public land visitors are exactly who should be chipping in more for recreation. Not only do they benefit most — after all, they're the ones with the inclination and means to visit the sites that stretch from Acadia to Denali — but goodness knows that most of them can afford it.
The median household income of a summer visitor to Yellowstone was $75,000 — about 50 percent higher than the national median — according to a 2013 study by University of Idaho researchers. Likewise, the Forest Service has reported that 52 percent of visitors in recent years had household incomes over $75,000, while just 9 percent had household incomes under $25,000.
Does it make sense for all U.S. taxpayers to be footing so much of the bill for well-off park visitors and forest users?
Recreation fees could go a long way toward taking care of our national parks and other recreation areas. But the inflexible laws that govern where and how fees can be charged make it difficult for park superintendents and land managers to set fees and spend the proceeds from them, as the Department of the Interior and the Government Accountability Office have noted. The upshot is that National Park Service fee revenues cover less than 10 percent of the agency's budget.
Amidst record visitation, a more flexible system for setting and spending fees would channel demand for recreation into real support for our public lands. If each of the 148 million visits to national forests last year earned just $1 for the Forest Service, then the proceeds would exceed the agency's annual revenues from timber harvests. Or if each visitor to Great Smoky Mountains National Park paid $5 upon entry, collections would fully fund the annual operating budget of the country's most visited park — and also cover a quarter of its deferred maintenance.
The proposed $70 peak-season fee has potential problems of its own. For one thing, you can spend just $10 more to buy a pass valid for entry to all parks for an entire year. And the new peak-season price would cover a vehicle for one week — why not offer a day pass, too, allowing locals to enjoy parks within driving distance at a modest cost?
Ultimately, managers should have flexibility to set pricing structures that work best for each site—whether that includes peak-season fees, annual passes, day rates, or surcharges for visitors from abroad.
It's time for recreationists to put their money where their footprints are — and help fund our parks and forests properly.
This article originally appeared in The Hill on November 15, 2017.