Introduction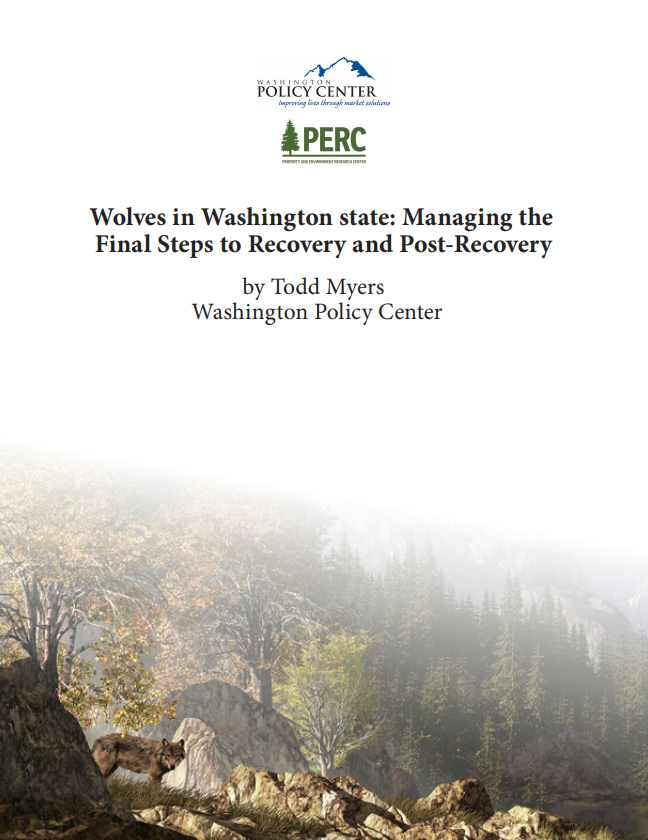 Facing increased political turmoil over the growing population of wolves in Washington state, on September 30, 2019, Governor Jay Inslee wrote to the director of the Washington Department of Fish and Wildlife (WDFW) asking him to change the state's strategy for managing conflicts between wolves and livestock. In his letter, the governor asked the director to "make changes in the gray wolf recovery program to further increase the reliance on non-lethal methods," such as increased range riding, changes in grazing allotments, and other wolf deterrence strategies to protect cattle, sheep and other domestic animals. The goal of these changes was "to significantly reduce the need for lethal removal of the species." At the same time, ranchers in Northeast Washington are demanding that wolf packs involved in livestock attacks be lethally removed more quickly, citing successful strategies used in other states such as Montana and Idaho.
The growing tension over wolf management was highlighted last year when the WDFW had to cancel town meetings to begin development of its post-recovery plan for wolves. Death threats on the agency's social media page from wolf advocates opposed to killing wolves led WDFW to accept comments online only.
To this point, the recovery program has been guided by the state's Wolf Conservation and Management Plan and the Washington Wolf Advisory Group (WAG), a collection of conservationists, ranchers, hunters, and other interested parties representing a range of views. Pressure is also applied by organizations outside the process, some of which have pursued an aggressive legal strategy to prevent the state from killing problem wolves and packs.
This tension comes at a critical time in the state's efforts to increase the wolf population while managing conflicts with humans and livestock. After being listed as endangered by both the federal and state government in 1973 and 1980 respectively, the Gray Wolf (canis lupus) returned to Washington state in 2008, likely migrating south from British Columbia, when the first breeding pair with pups was found in Okanogan County. Since that time, through migration and breeding, the wolf population has increased significantly, with 27 packs representing 126 wolves and 15 breeding pairs in 2019. In response to population growth in Washington and other nearby states, the federal government delisted the species in 2011 in a multi-state area that includes the easternmost part of Washington state, where most of the packs reside. Wolves are still listed federally as endangered in the rest of Washington state.
Washington's criteria for delisting a species are different than the federal rules. The state can begin the delisting process if there are 15 breeding pairs of wolves in the state for three consecutive years with at least four pairs in each of three regions in the state. Statewide, total wolf populations are currently near the level that would cause the state to consider delisting. Most wolf packs, however, are concentrated in one corner of the state. As a result, although wolf populations have achieved levels that were expected to result in more flexibility in dealing with aggressive wolf packs, the lack of geographical distribution means the state is still likely several years from beginning the delisting process. Rather than increased populations of wolves being a good sign, they have simply become more concentrated, increasing the risk of conflict with ranchers without the potential of delisting.
As wolf populations in the state continue to increase, WDFW has announced it was developing the post-recovery management strategy. WDFW argued it "is confident that Washington's wolf population is on a path leading to successful recovery." The plan would guide wolf conservation after state delisting in order to maintain a healthy population while allowing limited hunting and a wider range of management options. The agency expects it will take two or three years to complete the planning process.
The governor's letter demonstrates the difficulty of managing the political pressures associated with wolf recovery. Wolf populations have been steadily increasing and are not dispersing across the state as initially expected, creating a high-conflict zone where wolves and ranchers are both heavily concentrated. The weaknesses in the state's approach to managing this conflict are being magnified, and there is a need to adjust the existing management strategy.
Additionally, as WDFW begins planning for post-recovery, there is an opportunity to examine the current strategy and determine what changes should be made to protect the livelihood of ranchers while ensuring that wolves continue on their path to full recovery and delisting throughout the state.
Ensuring there continues to be a healthy ranching economy is a matter of fairness, economic strength, and environmental sustainability. The counties most affected by the return of wolves have some of the highest unemployment rates in the state, nearly double the state average. Ranchers, range riders, and hunters are also good partners in caring for the land and in funding wildlife stewardship. Successful wolf management that protects the livelihoods of ranchers and farmers while helping wolf populations grow is economically, morally and environmentally responsible.
Based on the history of wolf recovery in Washington and other western states, the best path would combine (1) improved non-lethal management approaches, (2) more rapid lethal removal of problem packs, and (3) expanded compensation programs designed by ranchers and others in the community where conflict is occurring. Some of these tactics are already being used but are not as effective as they could be for a variety of reasons. Additionally, since wolves have not dispersed across the state, the state should delist the species in Eastern Washington, as the federal government has, and focus its recovery efforts on other regions where wolf recovery is proceeding more slowly. The state can also pilot post-recovery strategies in Northeast Washington where the density of the wolf population is at a level that justifies delisting. Those pilot strategies should be developed primarily by the interested parties representing ranchers, conservation groups, and others in the affected communities. The state will always act as a backstop to any agreement, but it should encourage and be guided by a collaborative solution. Doing so would encourage groups to engage cooperatively rather than appealing primarily to the agency or to judges to intervene, which would increase conflict, mistrust and animosity. There is no quick solution, but as the experiences of other western states demonstrate, wolf recovery can be successful while providing ranchers with fairness and adequate levels of protection.
In this paper, I will examine the current wolf management plan in Washington, how it is working, and some of the problems facing ranchers, conservationists, wolves, and the state. Next, I will look at wolf management in other nearby states and how they are dealing with large wolf populations. Finally, I will offer some tools to improve existing wolf management policies to consider in the state's post-recovery plan.
Key Findings
The existing wolf-recovery plan has successfully increased Washington's wolf population to levels near those necessary to remove them from the state's endangered species list.
The impact of wolf attacks on livestock is disproportionately harming ranchers in N.E. Washington state, which is putting stress on the current plan.
The state should provide post-recovery rules where wolf populations functionally meet the recovery goals already. Washington should use the northeast corner of the state as a pilot area to build a locally designed, collaborative wolf-preservation policy that emphasizes incentives to limit conflict.
A sustainable wolf recovery strategy should include increased payments for livestock losses, state delisting in Eastern Washington to match the federal status, increased support for range riding, and quick removal of problem wolf packs.
Hunting should be allowed in areas where wolves are delisted to maintain appropriate population levels. Washington should take guidance from the Colville Tribe, which opened a hunting season for wolves on reservation land.
With a combination of the above approaches, ranchers and conservation groups, with the state's participation, should negotiate a new approach that increases incentives for non-lethal techniques and compensation payments when those approaches fail.
---
This study was written during a visiting fellowship at PERC and is a collaboration with the Washington Policy Center, an organization dedicated to improving lives through market solutions.
Download the full report, including endnotes and references.