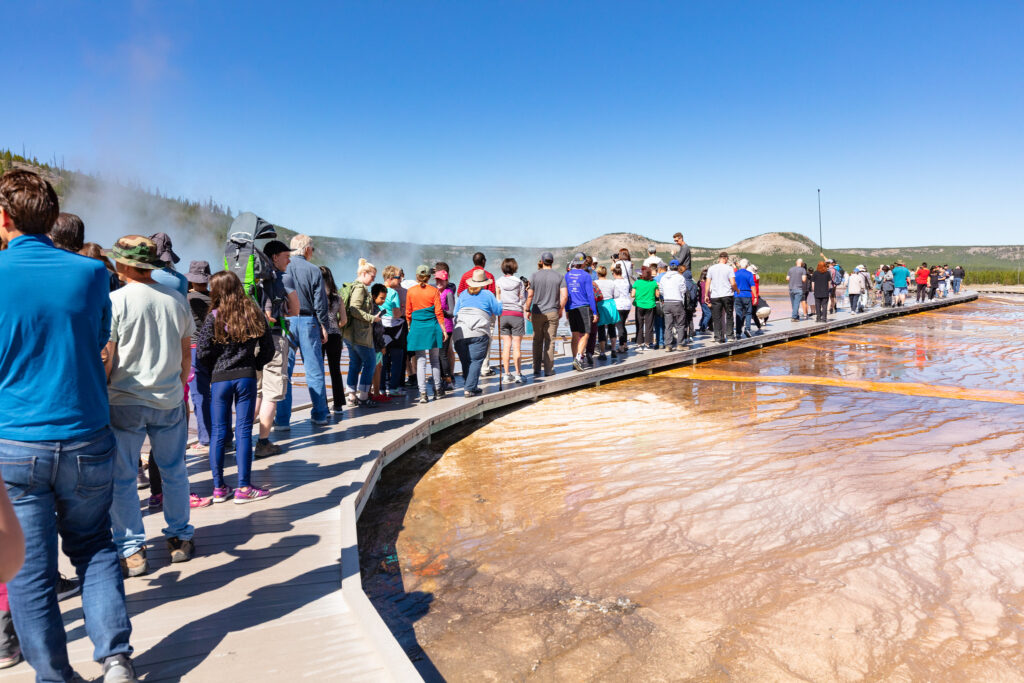 This article was originally published in The Hill.
As national parks smashed visitation records this summer, several parks instituted reservation systems, with varying degrees of success. But there's another tool that could help mitigate the toll record crowds take on park resources and infrastructure: Improve the entrance fee system to enable visitors to help sustain parks.
As visitation booms, the wear and tear on parks has become more apparent than ever. Fee revenues not only help manage the snowballing costs of visitor impacts amidst record attendance, they can also ensure we preserve parks into the future.
In the wake of lifted pandemic restrictions and pent-up demand by travelers, park visits—and visitor impacts—are surging. The effects are easy to see at the country's oldest national park.
"When you put a million more visitors per year in this park, what does that mean for trash removal? How many more times do you have to clean the bathrooms?" Yellowstone National Park Superintendent Cam Sholly told the Property and Environment Research Center.
A little more than a decade ago, Yellowstone had never hosted more than 3 million visits. Today, more than 4 million are basically guaranteed each year. So far this year, the park has seen over 4.47 million visitors, a new record.
That visitation translates to millions of vehicle miles on roads, countless footfalls on trails and boardwalks and who knows how many toilets flushes. And as is the case at parks from California to Maine, years of impacts have already added up.
The entire park system is saddled with about $12 billion in deferred maintenance. Yellowstone faces an estimated $586 million in overdue repairs. Paved roads account for more than half of that, but it also includes historic buildings, employee housing, water and sewage systems and more.
"We've got about $7 million of need just in boardwalk replacements alone," Sholly says.
Fees are a crucial funding source to help deal with visitor impacts, partly because they do a good job of aligning incentives. By law, 80 percent of fee revenues must be retained where collected and spent in ways that directly benefit visitors. That means visitor revenues are not subject to many of the political considerations that influence congressional appropriations, which fund the majority of park budgets. It also means that the boots-on-the-ground staff who know parks inside and out can decide how to best serve visitors with those funds.
Sholly says that "the importance of retaining entrance fees is absolutely essential. Visitation goes up, that translates to more impact, it also translates to more fee revenue for the park."
Admission fees are modest considering what you get in return. At Yellowstone and many other "destination" parks, the standard $35 pass is valid for an entire vehicle for one week—a relative pittance to be able to see Grand Prismatic, marvel at geysers and sulfur pots, spot elk and bison, and visit any of the park's other wonders.
According to Sholly, the average stay for a family of four is about three days, so the entry fee "breaks down to about $2.89 per person per day," he says, "a very miniscule amount of their total trip cost."
That echoes what Acadia Superintendent Kevin Schneider recently told E&E News about the $6 reservation fee implemented at Cadillac Mountain, a popular site at the national park.
"Most of the people who come here," Schneider said, "they're spending $300 a night on a hotel, and the transportation, everything else. It's a small price in the context of their vacation."
While fee revenues do a lot of good already, several improvements would help do more. First, Congress should permanently reauthorize the Federal Lands and Recreation Enhancement Act to give parks long-term assurance over their fee authority.
Second, the National Park Service should eliminate agency rules that tie the hands of local managers when it comes to spending fee revenues. Local staffers have the best knowledge and context about priorities at their recreation sites and empowering them promotes accountability because it is clear who is responsible for spending decisions.
Third, the agency should encourage innovation. A surcharge on foreign visitors—common practice at national parks from Tanzania to Chile to Thailand—is an obvious one to explore. Beyond that, experiments in varying prices—whether differentiated by vehicle or person, day or week, state or county residency, or otherwise—could grant useful insights and help generate more resources to enhance parks.
Many national parks have charged fees for more than a century. The automobile fee to enter Yellowstone in 1915 was $10—the equivalent of about $270 today. No one is proposing to raise fees that high. But tweaking the fee system could provide more resources to steward national parks now and for the generations that come after us.