Big ideas, bold solutions
PERC is powered by curiosity, creativity, and boundless optimism, inspiring us to explore new frontiers in conservation. Our work has been published in the journal Science and embraced by a variety of academic institutions.
featured
Expanding the use of prescribed fire on state, private, and…
explore research by Focus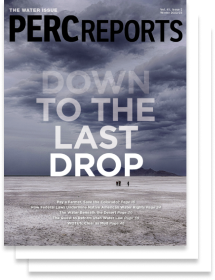 PERC Reports Magazine
PERC Reports: The Magazine for Free Market Environmentalism has been exploring market solutions to environmental problems for more than four decades. Now published semiannually, the magazine examines everything from public lands management to market adaptations to climate change to endangered species conservation.