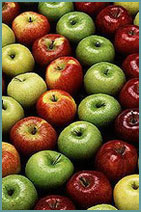 Duchess of Oldenburg, Maiden's Blush, Esopus Spitzenberg, and Black Gilliflower. These are not exactly household names
for those of us on the threshold of the 21st century, but they were as familiar to early American settlers as Granny Smiths
and Golden Delicious are to us today.
These ancient strains have all but disappeared from commercial American orchards as the mass cultivation of apples has tended
to favor just seven or eight varieties. Fortunately, some of these rare varieties are being preserved. One place is Alyson's Apple
Orchards near Walpole, New Hampshire. Consumers who prefer apples with a strong flavor or dense flesh can always find something to
please their pallets at Alyson's.
The orchard also plays another critical role in the world of apple lovers by preserving rare genes. When large growers reduced
the number of varieties they cultivated, they also reduced the size of the gene pool and opened themselves to the possibility
of increased susceptibility to pests and disease. So in addition to the orchard, Alyson's runs a nursery with 1,000 specialty
varieties. This reservoir of genetic material could someday prove invaluable to the apple industry.
The apples from Alyson's do not qualify as organic according to various certification boards and the U.S. Department of
Agriculture because the managers use synthetic chemicals with low toxicity along with biological pest management practices.
Despite the lack of an organic label, the apples are in high demand because of the growing interest in fine and unusual foods.
In addition to preserving biological diversity, the orchard is also one of the mainstays of the local economy. Competition
from huge commercial orchards in the West, as well as imports from abroad, have shut down many small New England
orchards.


Conservation Matters