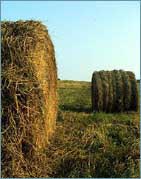 Grain growers in Washington's Spokane Valley traditionally burned the rubble on their fields after harvest. More recently, concern about air quality amidst the growing population is forcing many of them to give up the practice. As a result, the farmers have been left in the lurch. They still must remove the rubble, which they do by cutting and baling. It is more costly than burning and leaves them with tons of straw bales sitting in their fields. Without a market, farmers have taken to simply dumping the bales in gullies on their land.
Jim Armstrong, a creative thinker with a local conservation district, proposed a better solution for all the baled-up residue. It was his idea to build homes from the straw bales using a centuries-old technology that was once common practice in Nebraska and other Great Plains states. The bales provide walls two feet thick, which keep the homes warm in winter and cool in the summer. The straw also deadens the sound of traffic, noisy neighbors, and even howling winds.
With financing through the conservation district, two 1,400-square-foot, three-bedroom, straw bale homes were constructed on speculation. The walls of each home contain about four hundred straw bales, while the only wood used is in the rafters.
The houses are listed for $135,000, which is fairly typical for the area, but the thick walls should translate into savings of 40 to 60 percent on heating and cooling bills. And because the bales are stuccoed on the outside and plastered on the inside, they are actually more fire-resistant than a wood-frame house.
If the homes prove popular, Armstrong estimates that Spokane County produces enough residue from agricultural production to build 3,000 straw bale homes a year. Both farmers and urban dwellers could benefit from a bit of old technology.

Spokesman-Review