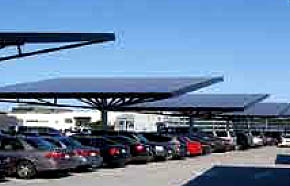 Solar panels and parking lots have teamed up for what some in the solar industry are calling extraordinary dual use. Typically, we associate solar panels with roofs, while turning a blind eye to the surrounding acres of paved parking surfaces. Shade structures over these sprawling heat traps could provide the foundation for large solar arrays.
San Diego-based Envision Solar, which was founded by architects and designers, has come up with a unique structure for parking lots that is both attractive and functional. The basic unit is called a Solar Tree that expands into a Solar Grove as needed. The single central support column, or trunk, allows for easy maneuverability in the parking area, and the tree canopy, composed of eight solar panels, absorbs sunlight and provides shade for up to 10 vehicles. Wiring beneath the ground, essentially the root system, allows the electricity to be used by the business or sold to the power grid.
The Solar Tree can also serve as a charging station for the increasing number of plug-in electric and hybrid vehicles. Each tree can re-charge two vehicles simultaneously and produce about 5300 KWH annually. The trees can be configured into groves for larger parking areas and customized to meet the needs of each facility.
This innovative concept provides a host of benefits. For the car owner, it offers the pleasure of a cool car on a torrid summer day. For the business or parking lot owner, it offers a reduced power bill. For utility companies and ultimately their paying customers, it offers cheaper electricity by eliminating the need to build acres of solar arrays in remote rural areas as well as expensive new transmission lines to get the power back to the cities and suburbs.
In 2008, Envision Solar completed eight parking projects for universities, healthcare facilities, and commercial developments, totaling more than 1.3 megawatts of solar power. In the words of one emotive engineer: "Parking can be beautiful."