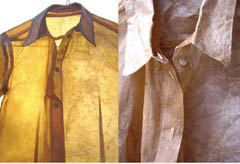 The good wool suit, the proper dress for school conferences, the Easter hat that goes to church once a year; these are mostly relics of the past. Today's fashions change so quickly that clothes are hardly worn and rarely loved. Barely worn clothes sit in heaps in warehouses across the country. Our disposable wardrobes consume all sorts of resources, including water, chemicals, metals, energy, and even cropland.
Suzanne Lee, a senior research fellow at a prestigious London arts school, is working on an alternative approach to manufacturing clothes. By combining science and art, Lee is growing clothes in vats of sugary green tea. This new enterprise, dubbed Bio-Couture, owes its existence to the throw-away wardrobes that pushed the fashion industry to seek cheap, biodegradable textiles. Working side by side to produce biomaterials suitable for clothing is an unusual team of professionals, including a chemical engineer, synthetic biologist, material scientist, and fashion designer.
The process begins by introducing cellulosic bacteria to a mixture of sweet tea and yeast. Cellulose-spinning bacteria do most of the work, growing fibers that can be dried into sheets. Depending upon the combination of ingredients, the biomaterial can be tough like leather for a Bomber jacket or delicate like the fabric in a summer blouse. The resulting material can be dyed and printed with a variety of colors, but it responds particularly well to dyes made from blueberries and cherries, turmeric, and curry powder. The designer can cut and sew these bio-materials much like any other textile (featured above); however, it can also produce seamless clothing. While still wet, the material can be draped over a body form to dry in the shape of a dress or jacket.
There is one drawback to Bio-Couture that could keep it from overtaking Target in the disposable wardrobe market. It takes two to four weeks to grow a garment, and true fashionistas might balk at such slow-working bacteria. On the other hand, if fashion trends change suddenly, the entire wardrobe can be tossed in the garbage disposal or onto the compost pile.
For more information visit: www.biocouture.co.uk