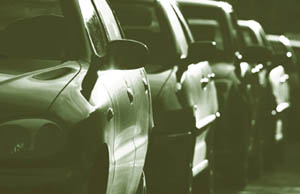 Learning how to park takes a few weeks, but finding a place to park takes a lifetime. Streetline, a San Francisco-based start up, has help on the way. Its new technology beams the location of the closest open parking spaces to anyone with an iPhone and the new app— Parker. Streetline promises to reduce driver frustration, gas consumption, air pollution, and traffic congestion, while bringing joy to meter maids everywhere.
If this sounds amazing, it is, but so is the problem— and it is getting worse. A few years ago, UCLA students documented parking problems near their Westwood campus. The group reported that motorists traveled an extra 950,000 miles per year in search of parking spots and that the average search time in late afternoon was 12 minutes. Parking policy experts see Streetline as an important step toward solving parking problems in densely populated urban areas. IBM also bestowed its blessing on Streetline by naming its CEO, Zia Yusuf, the IBM Global Entrepreneur of 2010.
So how does it work? Let's begin at the pavement. It takes only minutes to embed a durable, energy-efficient, wireless sensor in the street where it collects information on a single parking space and feeds it to a server. From there it is available to motorists circling the block, traffic engineers, transportation managers, meter maintenance workers, and parking police. If you are behind the wheel, the Parker app is a motorist's best friend. It not only finds the closest open spaces, but then notifies the driver when the meter is about to expire. For those who want to linger over dessert, the iPhone app can help by adding time to the meter. It should be noted, however, that new high-tech meters are needed to enjoy all of Streetline's features. More money in city coffers is also a Streetline benefit. Broken meters can be quickly identified and repaired, and parking prices can be adjusted to parking demand. At midday on a busy downtown street, a parking space could be a chunk of change, but at 9 p.m. the same space might be on sale for a quarter.
As luck would have it, Hollywood is one of the first areas selected by Streetline for a trial run. So far, so good. Tourists are seeing the sights with fewer hassles, and the stars are able to get their nails done and pick up a new Prada bag with no fear of a parking ticket.
The Parker app is currently available for the iPhone, but and Android version is in the works. For more information: www.streetlinenetworks.com/parker